Sustainability & Circularity NOW
Journal details
Sustainability & Circularity NOW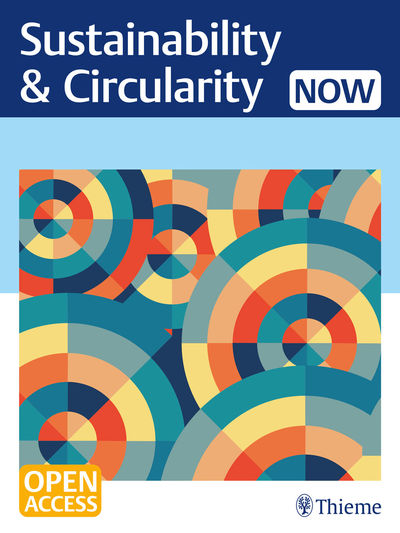 Journal scope
Now open for Submissions

Sustainability & Circularity NOW tackles very serious sustainability challenges and shape an ambitious and interdisciplinary agenda to resolve the global environmental crises that we face. Launching in 2024, it offers the perfect platform for bright minds to share their most revolutionary research in the field of Chemical Science and beyond.
Interdisciplinary reach: Bridges the gap between disciplines to innovate for circular chemistry.
Rapid peer review: Benefit from Thieme's revolutionary Select Crowd Review, providing feedback within 72 hours.
Open access: A fully gold open access journal.
Journal scope
The journal will focus on solutions to improve existing molecules, materials, and industrial processes as well as revolutionary discoveries of new more sustainable molecules, materials, and synthetic procedures. We welcome studies on:

Recovery of building blocks from waste;
Improvement of existing recycling technologies to make recycling easier and more efficient;
Clean energy;
Life cycle assessment studies and case studies to foster public and policy debate.
Topics of interest include:
Safe and Sustainable Design
Product Design for Circularity
Circular Design
Circular Economy
Sustainable Chemistry and Materials
Green Manufacturing and Engineering (with specifications on green metrics, e.g. E-factor, Eco-scale ...)
Biomass or Wastes as Raw Materials
Biobased and Circular Plastics
Zero Emissions Energy Carriers
Metal Recovery and Recycling
Alternative / Renewable Clean Energy
Life-Cycle Assessment
Environmentally Friendly Reagents and Feedstocks
Sustainable Synthesis and Catalysis
Sustainable Industrial Processes
Led by Editor-in-Chief Chris Slootweg, our board comprises thought leaders committed to sustainability.
"We hope to contribute to the timely development of a sustainable and circular society" – Editor-in-Chief Chris Slootweg on the launch of Sustainability & Circularity NOW
Article Processing Charges
Review for Sustainability & Circularity NOW
Sustainability & Circularity NOW uses Thieme's revolutionary Select Crowd Review for reviewing manuscripts. It offers a fast, interactive and secure review process, allowing an evaluation of a manuscript within a very short time. We are constantly looking for new highly motivated crowd members. Please get in touch with SusCircNOW@thieme.de if you would like to become a member of the crowd. Learn more about Select Crowd Review.

Editor-in-Chief Chris Slootweg about the Thieme journal Sustainability & Circularity NOW